North East Wedding Photographer
Creative, Artistic, Unobtrusive, Unique...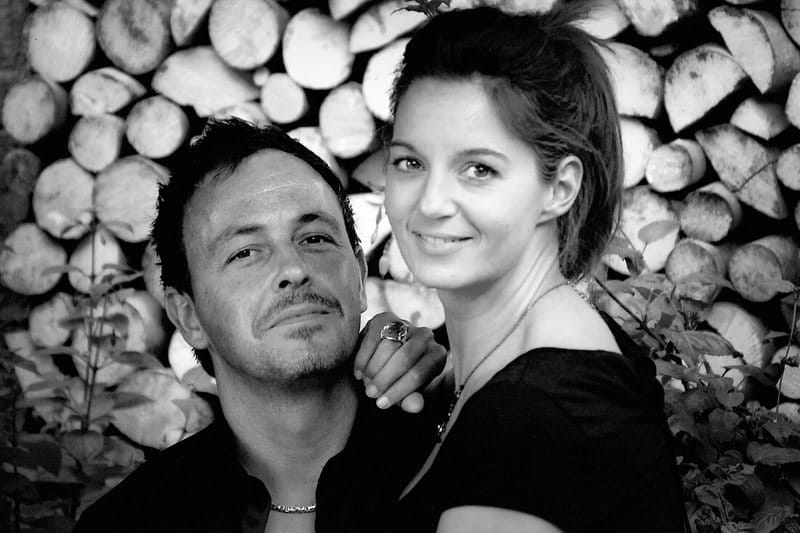 HUSBAND & WIFE WEDDING PHOTOGRAPHERS
CRAIG + ANDREA
We're husband & wife / best friends, who also happen to be award winning wedding photographers; passionate, professional North East wedding photographers with a creative, relaxed & distinctive documentary style.
Based in County Durham, up in the North East of England, photographing weddings across the country including County Durham, Newcastle upon Tyne, Northumberland, Yorkshire, Scotland, Lancashire & Northamptonshire to name a few.
As sought after wedding photographers with such a unique style, we've been lucky enough to document weddings at so many beautiful weddings across the entire UK and many of the most exclusive North East wedding venues!
Our style of photography utilises creative lighting, unorthodox angles, reflections, framing and bold colours, to create compelling, unique images that exceed that of traditional wedding photographers. Have a look on our 'Love Letters' page for some of the amazing reviews our couples have left for us!
We're not fans of formality, and much prefer blending in as if we were just another pair of guests, capturing your day as it unfolds, along with the feeling, the fine details, the love, emotion and the expressions without intruding or unnecessary posing. This style of photography can best be described as Reportage, Documentary wedding photography, or wedding photojournalism.
Our Wedding Photography is driven by you, your personalities, your guests, your party. Not by a series of shot lists created from previous weddings and each and every wedding we document is different, each with their own uniqueness, driven by their own vibe & personality
We strive to create compelling, emotive and original ideas that tell the story of your own unique day; when you are who you are, no fake smiles, no clichés, nothing 'cheesy', no 'staged' scenes; Just honest, emotive, real moments in time, captured forever!
We're a fun & down to earth couple and place a great deal of focus on building a rapport with our couples - this really helps us to be able to 'get you' as a couple; combined with our fun & relaxed way of shooting, it really helps our couples relax and it shows through in our wedding photography.
If you're looking for a fun-loving & relaxed North East Wedding Photographer, with a distinctive, unique style of wedding photography, we'd love to hear from you and chat about your wedding day, and the amazing plans you've got for your special day...
VIEW OUR LATEST WEDDING PHOTOGRAPHY
We're Loved!
If you're looking for a Fun and Relaxed North East wedding Photographer, please get in touch. We are lucky enough to love our job, but even more so to receive lovely comments from many of our couples about their wedding day.
Thank you so much again for what you have done for us; the photo's have blown us away and we just absolutely love them all!
Doxford Barns - Northumberland Wedding Photography
Well.... there's only one thing to say... f*ing fabulous!! How did you make everything (including us ;) ) look that good??!! Thank you for being the best wedding guests ever!!
Eshott Hall - Northumberland Wedding Photographers
Craig and Andrea photographed our wedding in October last year. and it was one of the best decisions we made for our wedding.
We love all of our pictures. Those that the pair took during our engagement shoot, as well as those of our big day at Rowallan Castle in Ayrshire.
Craig and Andrea offer a very personal service. We got to meet them over drinks before committing. Throughout the process they were incredibly kind and friendly.
On the day itself they were unobtrusive and mingled with our guests, but somehow still managed to capture every little moment from various angles.
We also had two videographers. And all four of them worked together in unison to give us the best results possible.
Craig and Andrea went out of there way to make our dreams come true. Craig even smuggled in some smoke bombs after I mentioned that I loved similar pictures he had taken with other couples. Craig & Andrea also skipped deserts to ensure we got some beautiful sunset pictures.
Rowallan Castle, Ayrshire, Scotland
Finding a wedding photographer is hard enough, without trawling through tones of different packages - We make ours very simple, all day!
Pre Wedding Shoot
A Pre-wedding shoot can help with any anxieties you may have when it comes to having your photograph taken, and are also great way of getting used to the camera before the big day.
Gorgeous story books, hand made in the UK. A perfect memento of your wedding memories and of course, a stunning way to show off your wedding photographs.
Reportage Wedding Photography
Our Wedding photography is documentary style - we believe it should tell the story of the big day and reflect the choices that couples make on the day. Anyone viewing the photos should be able to feel and gain an insight into what it was like to be there - The personalities and the essence of such a special day.
Distinctive works of Art
We not only capture those unique, special moments that make up your wedding day, we also incorporate creative, dramatic, compelling & 'distinctive' works of art that will blow your mind.
We are lucky enough to love our job, but even more so to receive lovely reviews from many of our couples about our wedding photography.